Painting in Stardust is a way to access inner parts of our soul, and previously unseen information from our psyche. Bringing it to the canvas for healing and transformation.
Please Note that signing up will enroll you in my school but you will need to also enroll in the specific courses you choose to access my content.

Enjoy a Free Course
Let's explore together where we came from...an egg, our Mother's Womb, the cosmos, sacred geometry? Where did we come from?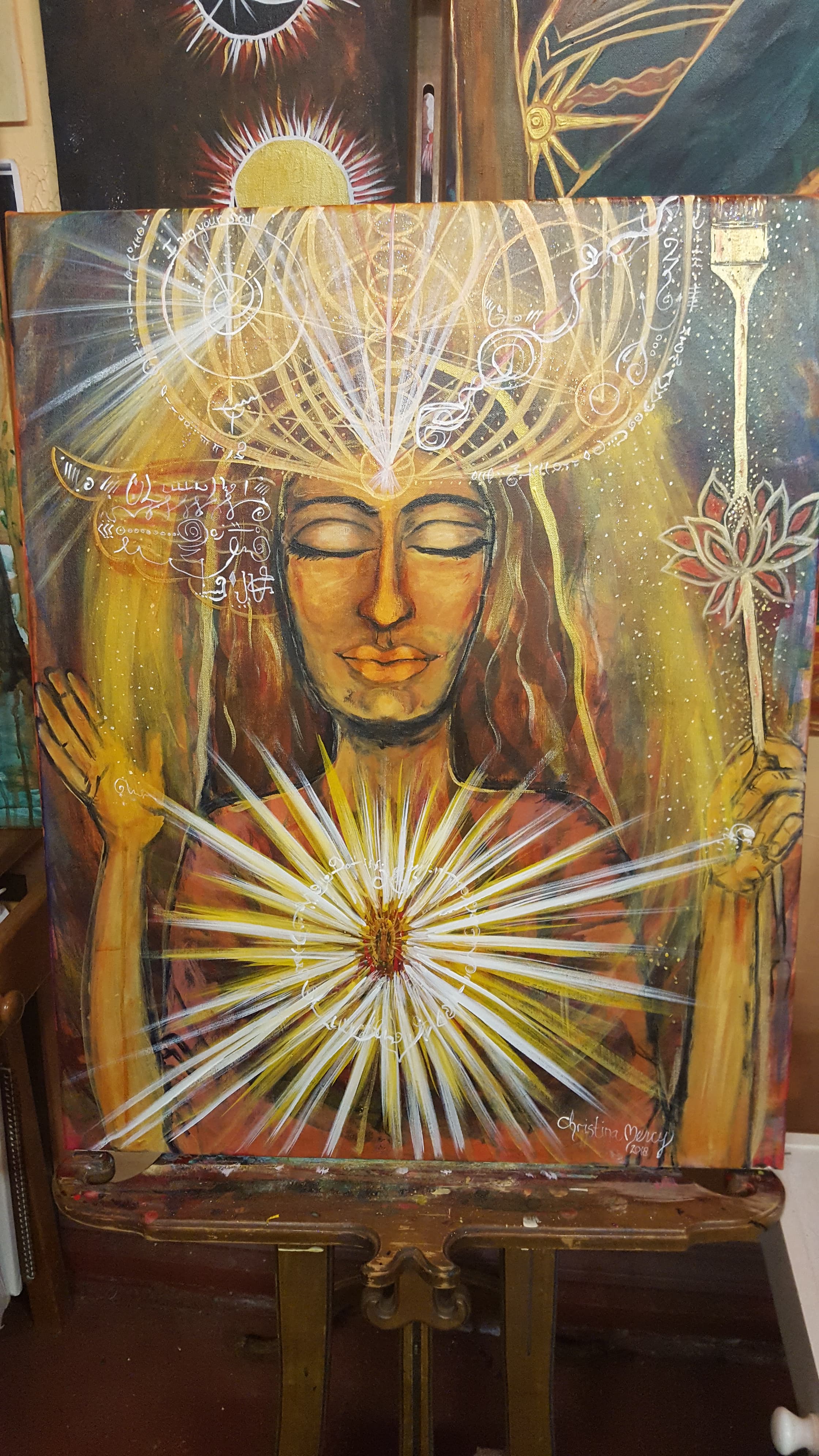 "I am not an artist, but I am so grateful to Christina for her non-judgmental teaching style. Working with the canvas and paints felt so joyful. Also, it felt luxurious to take this time for ourselves. I love the idea of working with my Self-consciousness, and learning to listen to my guides with the help of Christina. What a rewarding and healing experience."
Dawn DeSoto RD
Functional Nutritionist 
"Christina's Inner Muse tapped into my hearts creative space, enabling a profound wisdom to emerge in the form of a Muse who carried a message of many layers, manifested in a rich palette of color, much was revealed."
Susan Dobra Ph.D.
"A wonderful workshop-full of surprises, rituals, and unexpected outcomes. Great teacher."
Athena Demetrios
Writer
"I attended the Inner Muse workshop and it turned me inward, as I was thinking it would do, and I loved the energy it brought to me and from me. Thank you, Christina."
Diana Kuhn
"Christina is a wonderful teacher who guides the group effortlessly with the intention to use creativity to uncover our hidden muse and messages that resonate with our souls."
Elizabeth Hudson
The Magical Things Company
"It was very fun and insightful for those who love color in their lives. Christina is Godsent."
Sharon Rose Cardenas
Intuitive Yoga
"What I liked most about this class was the time it made me spend on symbolism. Also, meeting with some other guide or perhaps a part of myself. I know I will spend more time working with these images, expanding my painting and my new understanding of myself. One of my major goals this year was to spend more time nurturing my creativity, so this opportunity can=me at a powerful time. When I see thee painting in my home, I will be reminded to spend time healing, looking to the symbols and guides for help in the here and now, and feeding creativity. I can't. wait for the next class."
Heather Claiborne LCSW
Fitness Coach  


Examples of Christina's Art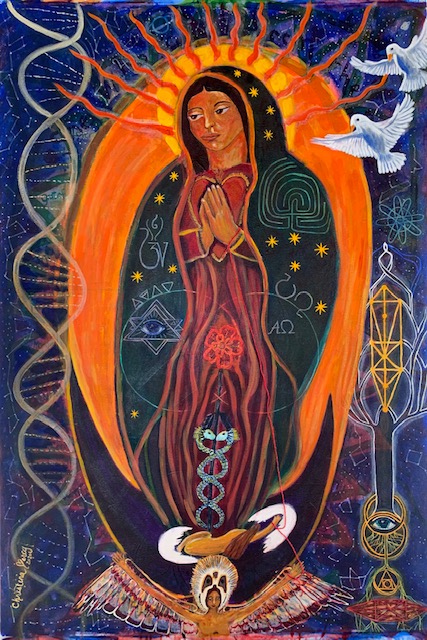 Cosmic Mother
She soon discovered the Mother of Creation had been holding her heart all along, she guided her through the labyrinth of chaos and confusion.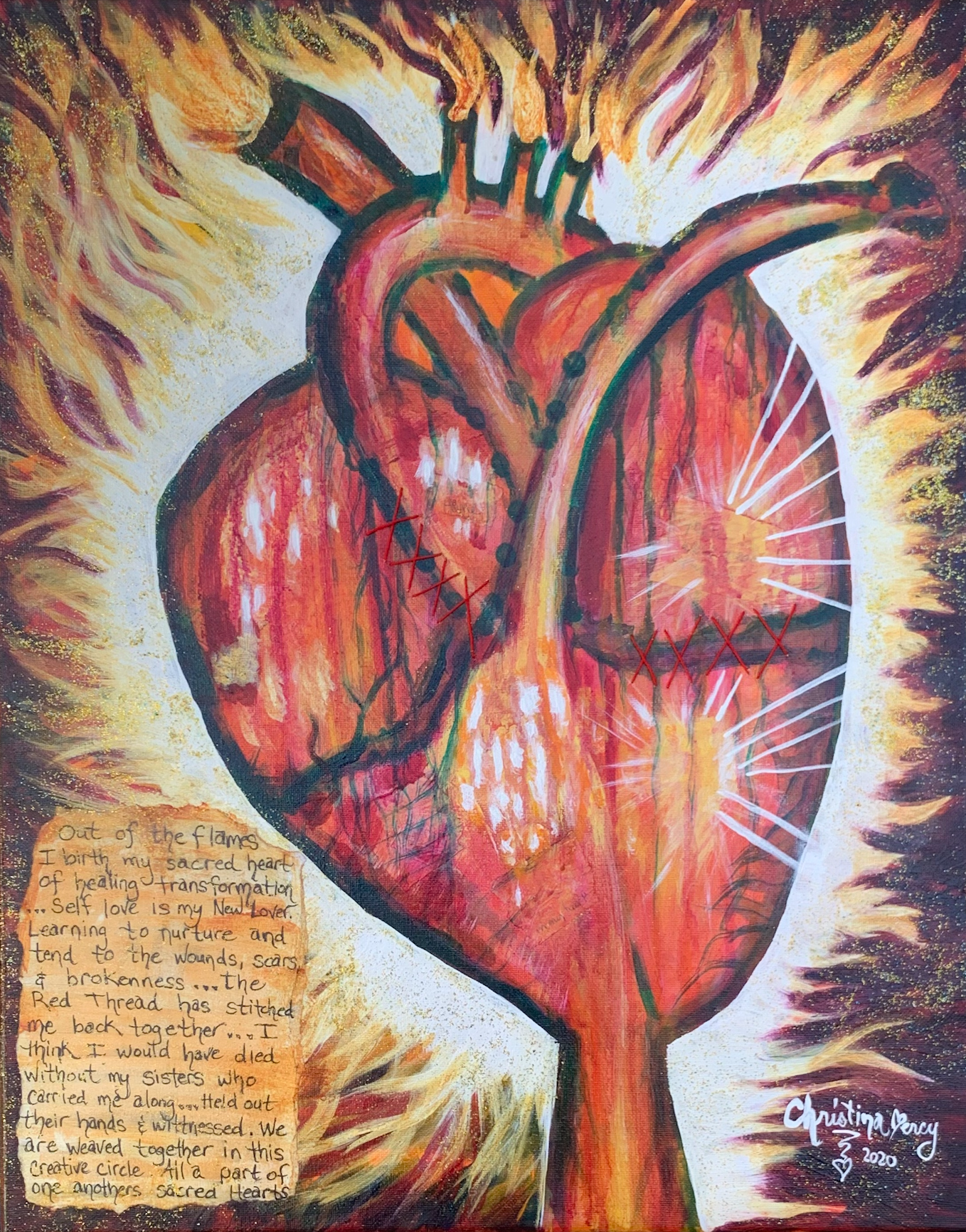 Creativity and friendships transformed her heart… stitching the fragmented parts back together as she reached for them between the worlds of physical matter, spiritual ordinary and non-ordinary realities.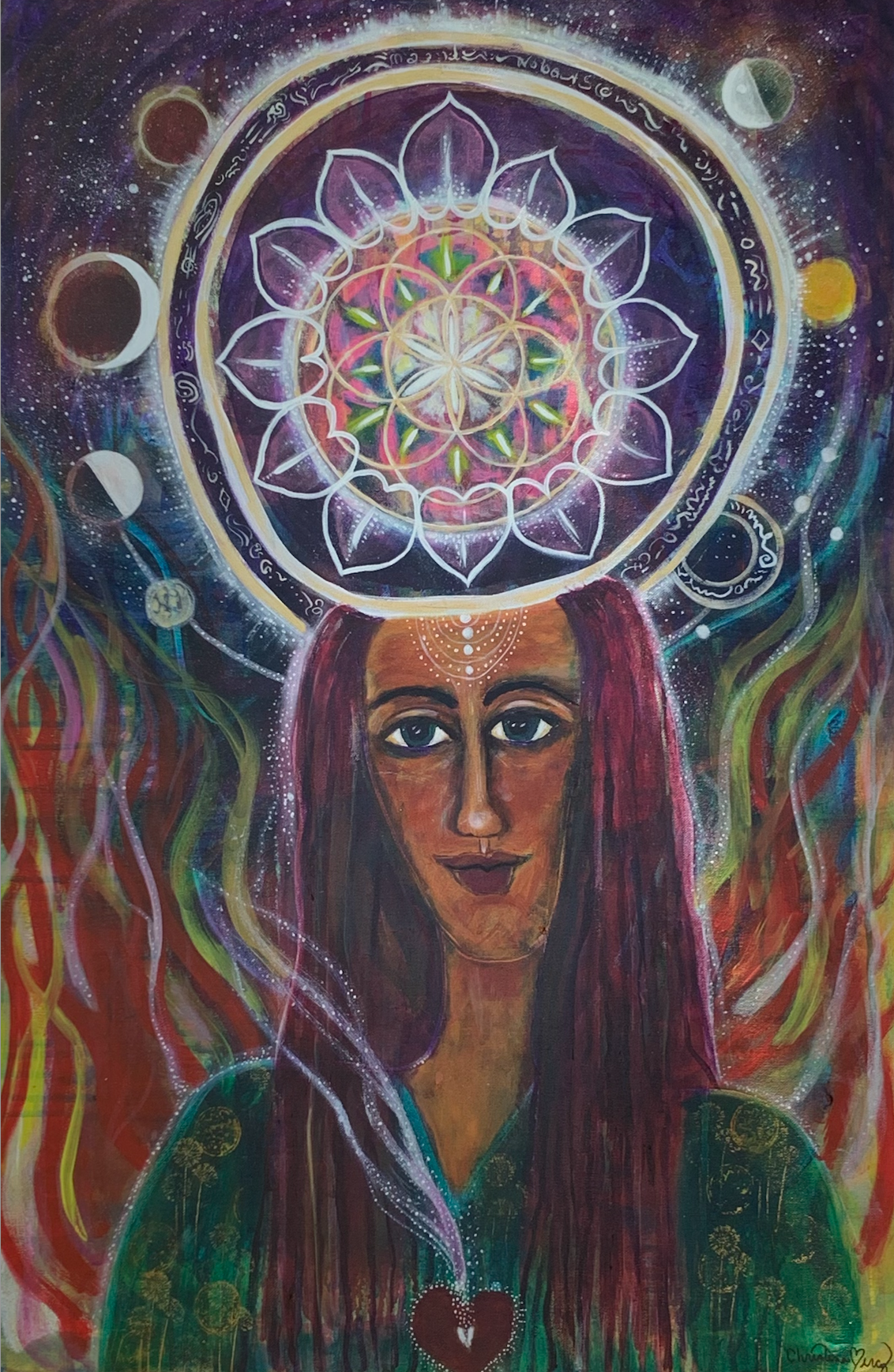 Alchemy of a Dream

Further evidence from her psyche…notions of tragedies. Grief, betrayal, and depression. Led me to remedies, of power, strength, trusting the wisdom of truth and immense profound changes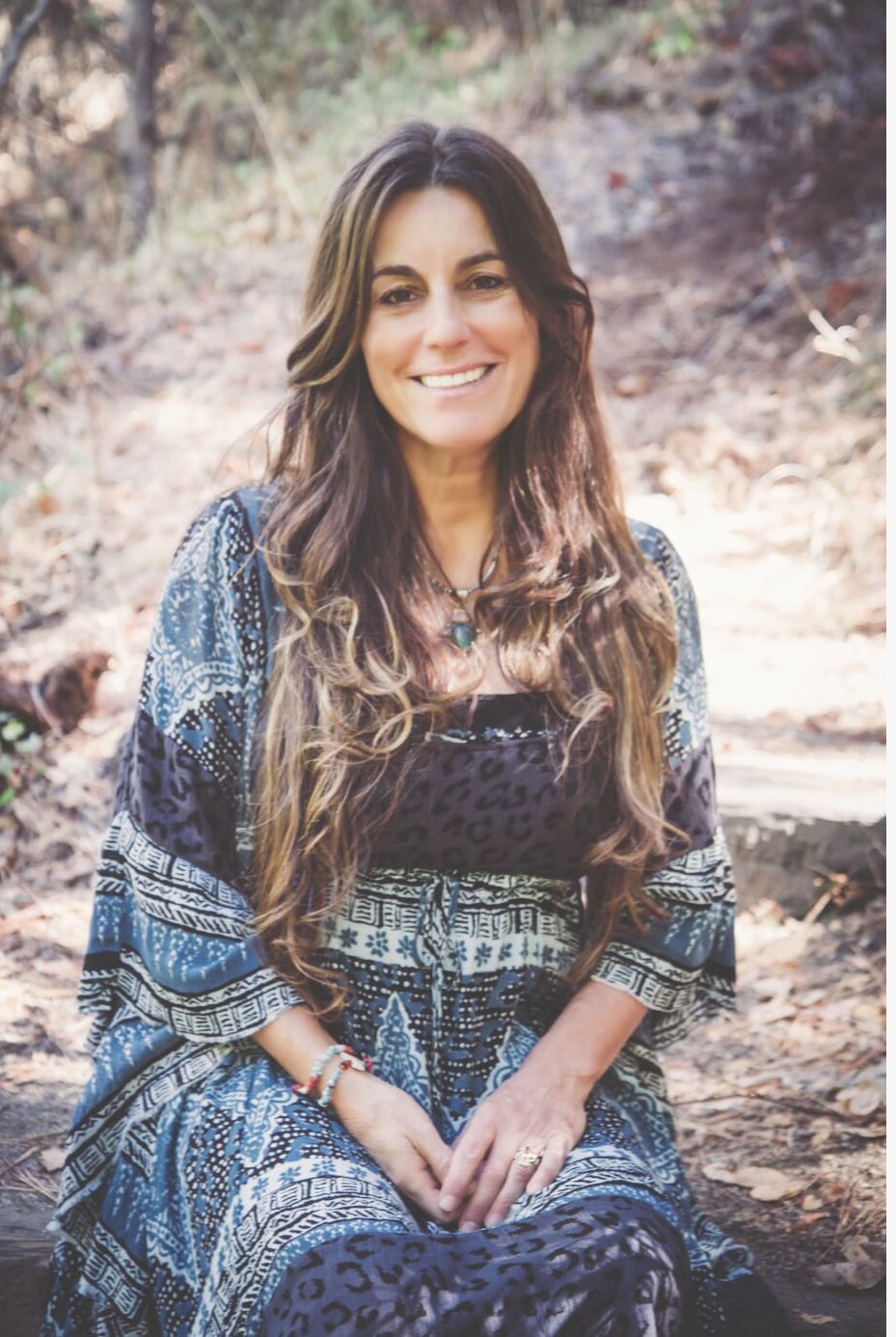 Paints In Stardust

Christina Mercy passionately offers women creative practices to inspire their soul to greater healing. Combining years of training as a psychotherapist. She expresses herself as a deeply devoted practitioner of healing arts. She inspires women to uncover and mend psychological wounds. Her interest is in sharing her explorations of ancient, sacred and contemporary evidenced based studies. Assisting women in developing greater outcomes in their personal relationships with themselves, while supporting them in their deep soul work. Continuing her education, attaining certifications in yoga, Alchemical Hypnotherapy, Intentional Creativity, Temple Body Arts, and Creatively Fit coaching. She is a student of the esoteric wisdom traditions of shamanism, folk herbalism, meditation, and astrology. She is well versed in 12 step recovery. Christina conveys a deep passion and belief in the healing arts. Throughout her lifetime many teachers have shared wisdom and inspiration. She has integrated these lessons, and wove together guidance from her devotional spiritual practices and her soul's guidance. Her life has been a series of explorations. She incorporates Active Imagination, brought to us by the pioneer of depth psychology, Carl Jung. Her art practices incorporate the use of dream symbols, and archetypal images; as these can be sources of great information from our psyche. Dreams open the door to the vast reservoir of the collective unconsciousness. Her teaching includes the importance of intention and sacred ceremony, as she bravely embodies a curious and creative heart. 


Courses
Painting in Stardust is a way to access inner parts of our soul, and previously unseen information from our psyche. Bringing it to the canvas for healing and transformation.


Check your inbox to confirm your subscription